Brexit plan critics are playing politics, says Theresa May
Those who refuse to back the Chequers plan for Brexit are "playing politics" with the UK's future, Theresa May says.
In the Sunday Times, Mrs May reiterated that her plan was the "only proposal" that would deliver, and signalled she had a "long-term" job to do as PM.
Speaking ahead of the party conference in Birmingham, she also announced plans to charge foreign home-buyers more tax, and proposals for a national festival.
But ex-foreign secretary Boris Johnson called her Chequers plan "deranged".
Mrs May's strategy has also been fiercely criticised by other Brexiteers, who say her move to keep the UK closely aligned with the EU on goods would betray the 2016 referendum vote.
And writing in the Sunday Telegraph, ex-attorney general and pro-Remain MP Dominic Grieve, said the time had come for a "polite rebellion by pragmatic Conservatives", adding that a "significant" number were prepared to back a second referendum rather than leave the EU with no deal.
Meanwhile, the Conservative Party was forced to apologise after a technical issue with its conference app meant Tory MPs had their phone numbers and other personal data revealed. The issue has since been resolved, the party said.
The UK's data watchdog, the Information Commissioner's Office, said it would investigate the breach.
In her Sunday Times interview, Mrs May said: "The only proposal on the table at the moment that delivers… is the Chequers plan."
She challenged the EU to come forward with counter-proposals, while saying of Labour, "you can't believe what they say".
Both have declared her plan to be unworkable, and last week Labour members voted to keep the option of another referendum open if MPs were not happy with the final deal reached.
Mrs May's message to Tory MPs was that the party "always puts country first and puts the national interest first".
She was "not bluffing" when she said "no deal is better than a bad deal", Mrs May added to the Sun on Sunday, but she thought a good deal could be reached.
Celebrate the UK
On other matters, Mrs May told the Times: "There's a long-term job to do. Because it is not just about Brexit, it's about the domestic agenda as well."
She said people and businesses who did not pay tax in Britain would face a higher stamp duty levy of up to 3% when they bought property in the UK – to stop them driving up house prices.
The money would be used to combat rough sleeping.
She also revealed plans for a Festival of Great Britain and Northern Ireland to showcase the nation in January 2022 – months before the next scheduled general election.
And Health Secretary Matt Hancock said health officials would produce guidelines on the amount of time young people should spend on social media.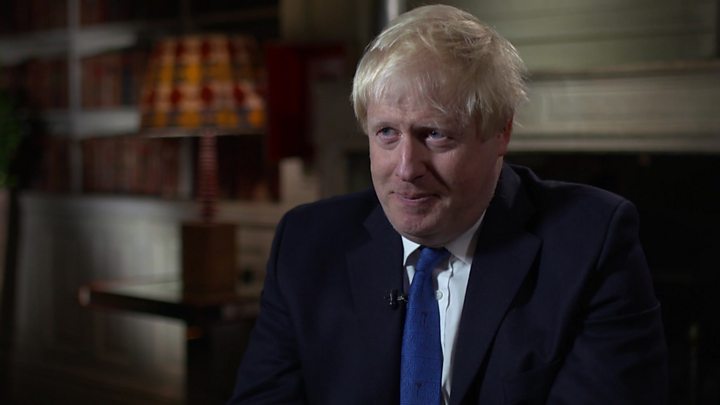 Mr Johnson – who quit the cabinet in July in protest at the Chequers plan – again challenged Mrs May's position, telling the Sunday Times that he, unlike the PM, had campaigned for Brexit.
On Friday, he described her approach as "simply intolerable" and refused to rule out a leadership challenge.
Mr Johnson also set out domestic policy ideas, including building a bridge between Britain and Ireland and putting the HS2 scheme on hold to focus on a rail link in northern England.
Meanwhile, Mr Grieve warned the Brexit row was "paralysing government" and damaging the Conservatives' reputation.
"A no-deal Brexit is a proposal so damaging to our future that it cannot be accepted," he wrote.
"So the only possible response must be to return to the British electorate and ask them what they want. That, it seems to me, is good pragmatic Conservative position."
The UK is due to leave the EU on 29 March 2019, and negotiations on the terms of exit and future co-operation are continuing.